More States Cutting Unemployment Benefits as Jobless Claims Edge Upward
---
By Unemployment-Extension.org | April 6, 2015 at 9:20 PM |
According to Labour Bureau, the number of initial claims for state unemployment benefits dropped by 20,000 during the week ending March 28.

Weaker overseas growth, a strong dollar, and a harsh winter were blamed for the slow growth throughout the first quarter of the year, leading to the increase in jobless claims.
More States Eying Benefit Cuts
Despite slow economic growth, an increasing number of states are making the move to slash unemployment benefits. Much of the move toward cutting unemployment benefits is driven by the fact that while jobless claims did inch upward slightly in mid-March, overall, claims have experienced a significant decline. According to the Economic Policy Institute, the proportion of unemployed individuals who receive benefits from state programs declined by more than 23% during December 2014.
In fact, the number of unemployed receiving unemployment insurance benefits has decreased to its lowest level in decades. This happened mostly due to the cuts in benefits that have occurred in numerous states around the country.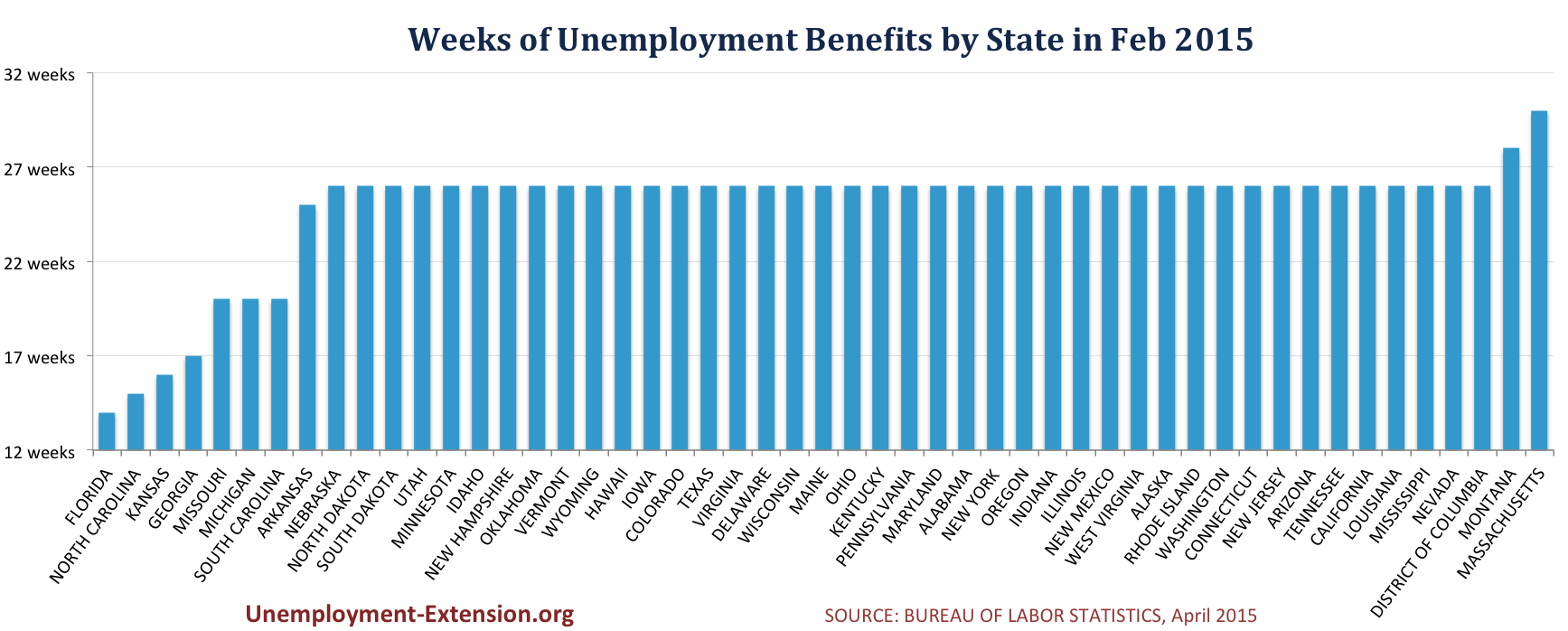 Increasingly more unemployed individuals struggle to meet the requirements to receive benefits. One of the most vital factors for qualifying for unemployment benefits is that unemployed individuals must have been laid off from their employment through no fault of their own. Additionally, they must have held that job for a significant length of time.
Many any states have cut back on unemployment benefits, and the result is that many people remain unemployed but are not able to receive benefits. According to the Huffington Post, prior to the onset of the Great Recession in 2007, every state in the country offered a full 26 weeks of unemployment benefits. Until 2012, Congress provided unemployed individuals with additional weeks of compensation that were federally funded.
Some States Reducing Benefit Amounts Along with Duration of Benefits
To date, nine states have slashed benefits. Among the states looking to cut unemployment benefits is Arkansas. Earlier in March, the Arkansas House approved a bill that would reduce unemployment benefits with a vote of 73-11. If the measure were approved, it would result in reducing the number of weeks that unemployed individuals in that state could receive benefits from an already short 25 weeks to just 20 weeks.
The legislation would also result in a change in the way that benefits are calculated, thus slashing benefits even further. Those changes could reduce benefits received by workers as much as $20 per week. Proponents of the measure have indicated that the changes are necessary in order to keep Arkansas's unemployment fund financially healthy, but critics have pointed out that such a move could harm working families.
Other states that have slashed the number of weeks of benefits that qualified unemployed claimants can receive include Georgia, Florida, Kansas, Illinois, North Carolina, Michigan, Missouri, and South Carolina. In each of those states, the maximum length of regular unemployment benefits has been reduced to less than 26 weeks.
More States Initiating a Sliding Scale for Unemployment Benefits
The state of Illinois initially reduced the maximum duration of unemployment benefits to 25 weeks in 2012 but resumed the standard 26 weeks of benefits the following year. The most severe cuts have taken place in North Carolina, Georgia, and Florida, where the maximum number of weeks that individuals can receive benefit uses a sliding scale. That scale is based on each state's unemployment rate. In some states, the maximum length of time that unemployed individuals can receive assistance has been reduced to as little as 12 weeks.
In some states where the number of weeks that the unemployed can receive benefits has been reduced, unemployed workers who have used up all of their state benefits have no additional protection available, because there are now no federal benefit extensions in place.
The Bureau of Labor Statistics reported that at the end of 2014, 2.4 million people were claiming unemployment benefits. Needless to mention that this figure pales comparing to the number of people who reportedly remain out of work.
Other Unemployment News
Unemployment Rate Dips to 7-Year Low While Long-Term Unemployment Remains High
Does Cutting Unemployment Benefits Reduce Unemployment?
More News